The use of drones is becoming widespread in most major sectors, including logistics and transportation. Given their ability to reach hard-to-reach places and their speed, UAS (Unmanned Aircraft Systems) are generating high expectations in the transportation and delivery of goods.
Drones provide new ways of working that are more agile and functional than the current ones for logistics companies. Many companies already have light drones that perform inspection and reconnaissance tasks in industrial plants, saving costs in human resources. Let's see how UAS are used in these important sectors.
Use of drones in logistics work 
The use of drones to transport loads and batches within warehousing centers and industrial facilities is already a fact and will continue to develop in the coming years to improve the distribution of goods, for example, from the port to the warehouse.
At present, drones are available with systems for transporting and unloading goods in a completely safe manner in logistics centers. They usually carry a winch that lifts up to 5kg of cargo from the moving drone, with the possibility of picking up or unloading cargo from more than 20 meters high.
In addition, there are platforms that have been specifically designed for logistics work with a multi-drone capable of making long distance deliveries silently and accurately. The drone could carry a load of up to 6 kg and fly in headwinds of up to 50 km/h.
Gradually, we will see drones that carry more payload weight and greater autonomy. Currently, there are already logistics aircraft capable of carrying 18 kg with a range of up to 80 minutes. In the not-too-distant future, we may see drones working in these capacities:
Transporting goods between hubs.
Creating new cargo routes to alleviate ground traffic.
Moving tools with drones in industrial, agricultural, mining and other plants.
Drone services are already being used today for the inspection of ships and logistic shipments in which the costs for companies and the execution time of these tasks are considerably reduced. On a technical level, accuracy is increased and errors are minimized. For example, drones can carry out shipments of up to 5 km in just 5 minutes.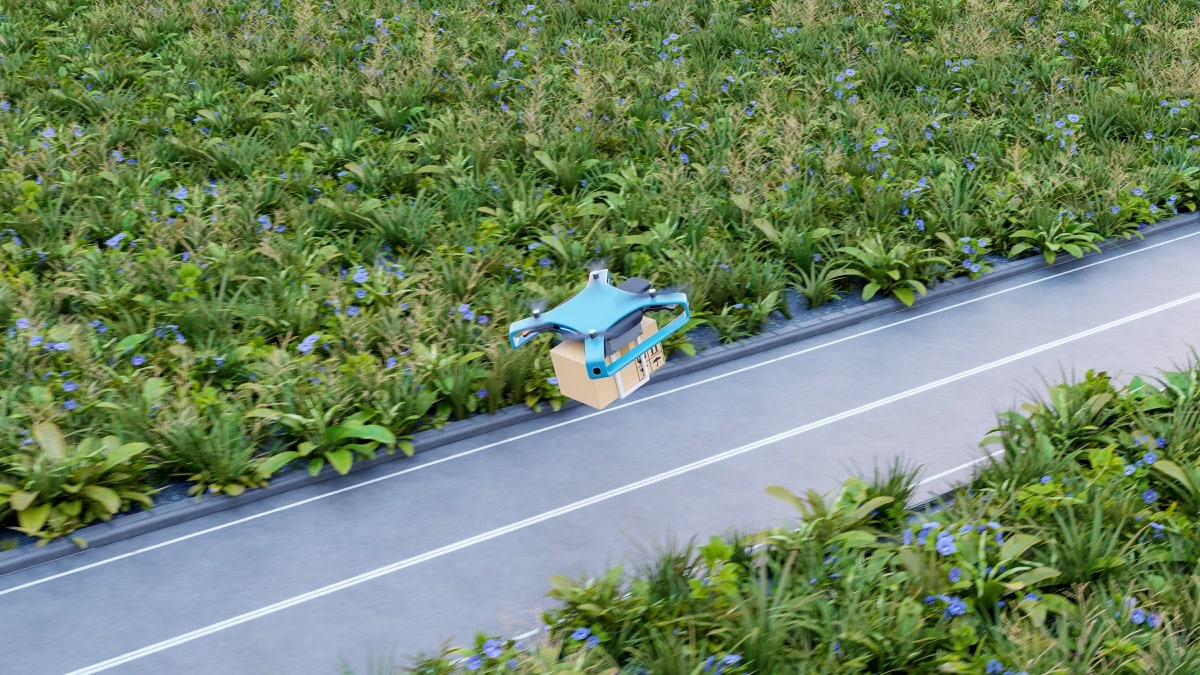 Drones used for transporting goods
Currently, large e-commerce-based goods distribution companies are testing the feasibility and capability of drones to deliver their products to homes. For example, the giant Amazon is already using drones for its U.S. deliveries with great success. 
Prime Air, Amazon's brand, received approval from the U.S. Federal Aviation Administration in August 2020 to deliver packages by unmanned aircraft. Its packages do not exceed 2.3 kg, the flight is guided by GPS on a registered route and 120 meters above the ground. The maximum distance the drone travels is 25 km and delivery takes a maximum of 30 minutes.
On the other hand, drones have also been used in emergency situations, as happened in 2020 with the Covid-19 pandemic, which distributed medicines, vaccines and other health items in remote locations in Ghana and Rwanda with more than 13,000 deliveries. 
Drones used to transport people.
Although it sounds like science fiction, aerotaxis are already among us and one example is the UMILES New Concept by Tecnalia, a 100% Spanish-made aircraft from UMILES Group. By 2030, a massive use of these aircraft is foreseen in large cities to reduce traffic problems and pollution.
The objective of these drones is to coexist with manned aviation in the Advanced Air Mobility (AAM) environment. This air cab can carry up to 100 kg of payload and, for the moment, its flight range is approximately 15 minutes, i.e. about 15 kilometers. 
These are just examples of what is already being done and the path that is beginning to be taken in the logistics sector and the transport of goods and people with drones. We believe it is going to be one of the fastest growing areas in the next decade and a great job opportunity for drone pilots.
If you are looking for a drone course school in Madrid and want to contribute to a successful working future, discover our advanced drone pilot course with the best professionals in the sector, we are waiting for you!