Want to become a professional drone pilot?
Professional Drone Pilot Course
Train at the best school to enter one of the most high-profile sectors, and obtain all the certificates you need to become a professional drone pilot
Become a professional drone pilot and find work in one of the most sought-after sectors through our comprehensive professional drone pilot course, where you can train in the different AESA-approved certificates to be able to fly your UAV safely and in line with all national and European standards.
From 22 May to 10 December.
Timetable from 09:30 – 13:30 h.
From 11 September to 31 March.
Timetable from 16:30 – 20:30 h.

The most comprehensive and practical professional drone pilot course in the market
By taking the UMILES University professional drone pilot course, you will be entering the most comprehensive training in the market:
A full theoretical and practical course to obtain professional training to fly all types of drone in different scenarios.
Classes taught by experienced and active professionals with over 10 years of experience.
536 hours of mixed training divided into 3 full modules.
In-person training in Madrid and in the field with practical sessions flying all types of drone in our own aerodrome.
AESA-approved flight certificates endorsed by EASA.
Specialisation in relevant sectors for drone flying, such as advanced mechanics, security, emergencies, and others.
40 hours of real-world operations in which students will have to plan, implement and resolve three real business operations for one of our clients.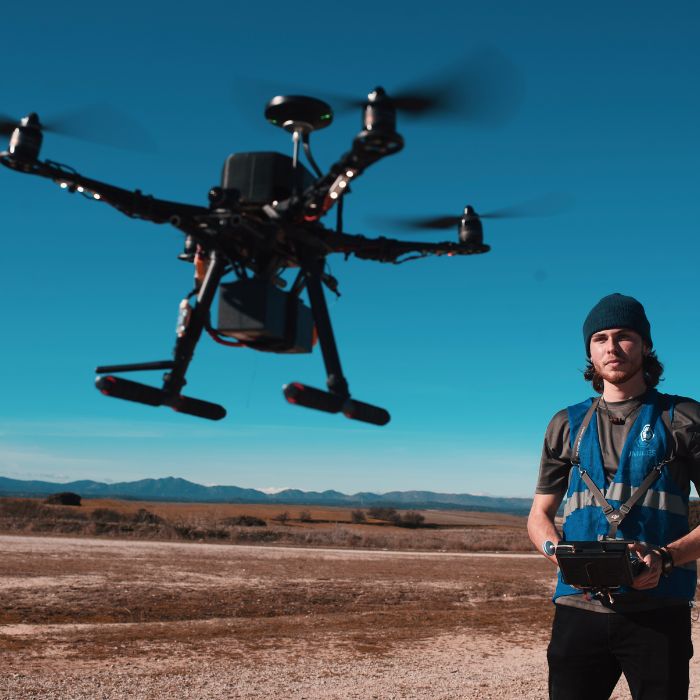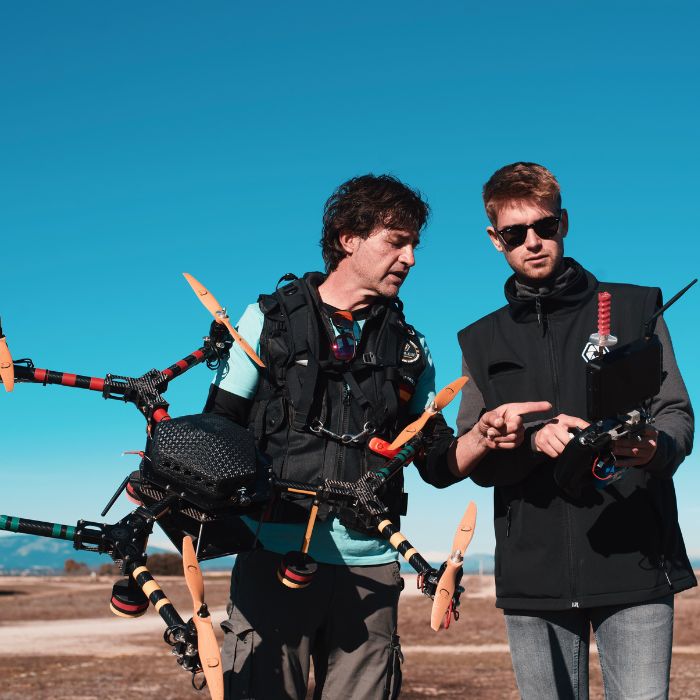 Become a certified drone pilot
With UMILES University, you can take the most comprehensive official drone pilot course in the market, which is governed by AESA regulations, the highest national and international drone organisation. Therefore, on completing this training, you will be able to work as an operational drone pilot throughout Europe, with all the official certificates required for this purpose.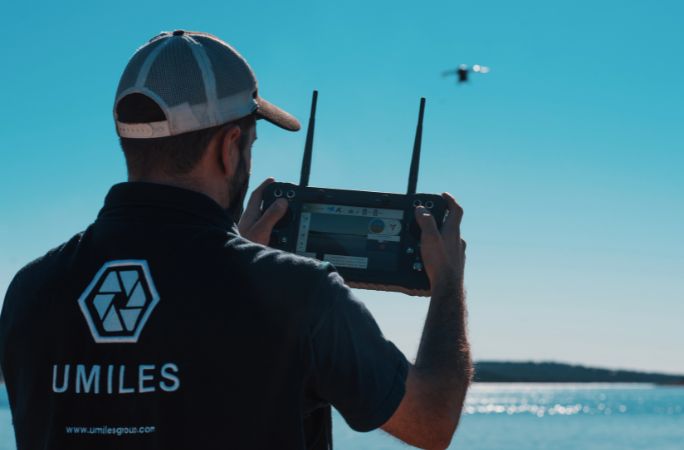 Drone applications are becoming more and more widespread, and having the certificates required to fly UAVs will give you access to an increasing number of new job opportunities.
With our approved STS drone pilot course, you will be able to obtain all the certificates required by the AESA (National Aviation Safety Agency) to safely pilot UAVs in different environments and in full compliance with the law.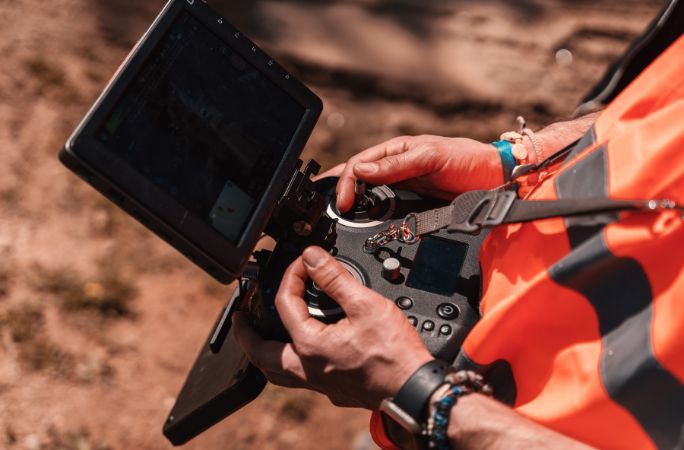 Thanks to our training, you will be certified to work professionally in different areas of application where drones are used, such as in aerial filming, satellite image detection, crop inspections, and many others.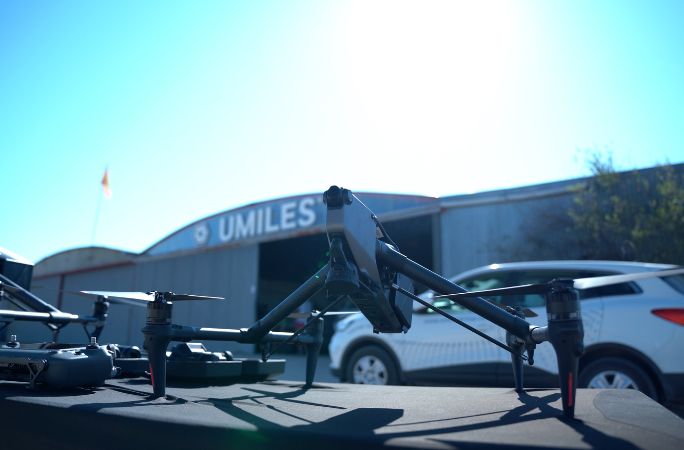 Want to work as a drone pilot? Call us on 91 113 89 88 and reserve your place now.
Why choose UMILES University?
UMILES University offers great national and international support, as we are an established drone operating company that is present in more than 12 countries worldwide.
We have extensive experience in the sector, and are therefore able to offer an advanced drone pilot course that provides you with validation as an expert in the different areas of interest related with UAV flying.
What do our students think?
Find out what the students who have completed the official UMILES University drone pilot course think.
Course content and organisation of the drone pilot course
Our professional drone pilot course is structured around 3 complete modules, covering all areas of interest in which a professional UAV operator must train in order to perform their duties safely and in line with regulations.
Below are the details of the contents of each module, with the most relevant aspects of this professional drone pilot course.
This first module consists of 200 hours of training in which you will receive all the necessary certificates to operate officially and safely as a drone pilot. The content of this module is split into two main sections, subdivided as follows:
Part 1- European and Radio Operator Certificates
This section provides 124 hours of theoretical training for you to acquire all the necessary knowledge to technically operate drones, in order to obtain all the necessary certificates.
The course content for this module includes:
84 hours of information related with the operating of drones in line with the requirements of the National Aviation Safety Agency (AESA).
20 hours spent acquiring knowledge related with drone operating safety.
20 hours of training in communications, to be able to work as a radio operator.
Part 2- Practice sessions
The second part of Module I includes 76 hours of training aimed at enabling students to master flying with different types of drones.
The practical part of this module is divided as follows:
Flight with 0-5kg drone: 4 hours of training in a theoretical-practical day + 20 hours of practical flying time at the aerodrome with exams included.
Flight with 5-15kg drone: 4 hours of training in a theoretical-practical day + 20 hours of practical flying time at the aerodrome (exams included).
Flight with 15-25kg drone: 4 hours of training in a theoretical-practical day + 10 hours of practical flying time at the aerodrome.
Flight with fixed-wing drone: 4 hours of training in a theoretical-practical day + 10 hours of practical flying time at the aerodrome.
Once the general knowledge of drone operability has been acquired, the second module must be started, which includes all the necessary training for students to work in the different areas of professional drone activity.
This second module is subdivided into 4 sections covering the following course content:
Part 1 – Advanced Mechanics (AM)
This section provides students with all the mechanical knowledge needed to calibrate and make technical adjustments to the drone to adapt to each type of mission.
The course content for this section lasts for 80 hours of training spread over 4 weeks, including:
Drone structure.
Knowledge of installation, assembly, and engine, propeller, and variator components, etc.
Drone programming.
GPS settings.
Flight controllers.
Part 2 – Industrial Technician and Remote Sensing (ITRS)
This section trains students in operating a drone professionally in all areas of work related with industrial and remote sensing applications.
It consists of 120 hours spread over 6 weeks, and includes the following:
Types of UAS for civilian use.
Use of satellite images.
3D planimetric surveying.
Topography, thermal imaging, and cartography.
Photogrammetry.
Data analysis.
Inspection of crops.
Inspection of roads and infrastructure.
Creation of flight paths with UgCS software.
Pre-flight and post-flight reporting.
Use of PIX4D and Agisolft Metashape for data collection.
Techniques using RGB sensors.
Part 3 – Audiovisual Specialist Course (CEA)
Part 3 of this module aims to train the student in operating drones for commercial purposes, for advertising, filming scenes, and film making.
This segment includes 40 hours of training lasting for 2 weeks, and covers the following subjects:
Organisation chart of the audiovisual sector.
Creation of film script.
Production.
Types of cameras and components.
Framing.
Basic photographic production techniques.
Photo and video shooting techniques.
Advanced filming techniques.
Storage of recordings.
Editing and post-production.
Part 4 – Security and Emergency Course (SEM)
The last part of this module consists of 56 hours spread over 3 weeks, covering everything related with handling drones in the field of security and emergencies, especially for disaster work.
The course content for this section includes the following:
History and evolution of drones.
Uses of drones in security and emergencies.
Real-life cases solved effectively with the use of drones.
Anti-drone systems.
Image taking for reporting.
Security and emergency operational procedures.
Operational flight plans.
Remote surveillance.
Design, planning and implementation of real-life operations.
Practical flying sessions with drones specialising in emergency and rescue operations.
The last module of our professional drone pilot course focuses on ensuring our students are trained to operate in any situation. 40 hours of training therefore involves a real-world operation of one of our UMILES clients.
At this point, students must be able to complete the following activities:
Technical planning.
Flight plan implementation.
Selection of technical equipment.
In-flight data collection.
Processing of information.
Preparation of the technical report.
This makes it the most comprehensive drone piloting course in the market, while including the possibility that the client might want to hire the student immediately for future work. This makes it an excellent opportunity to find work.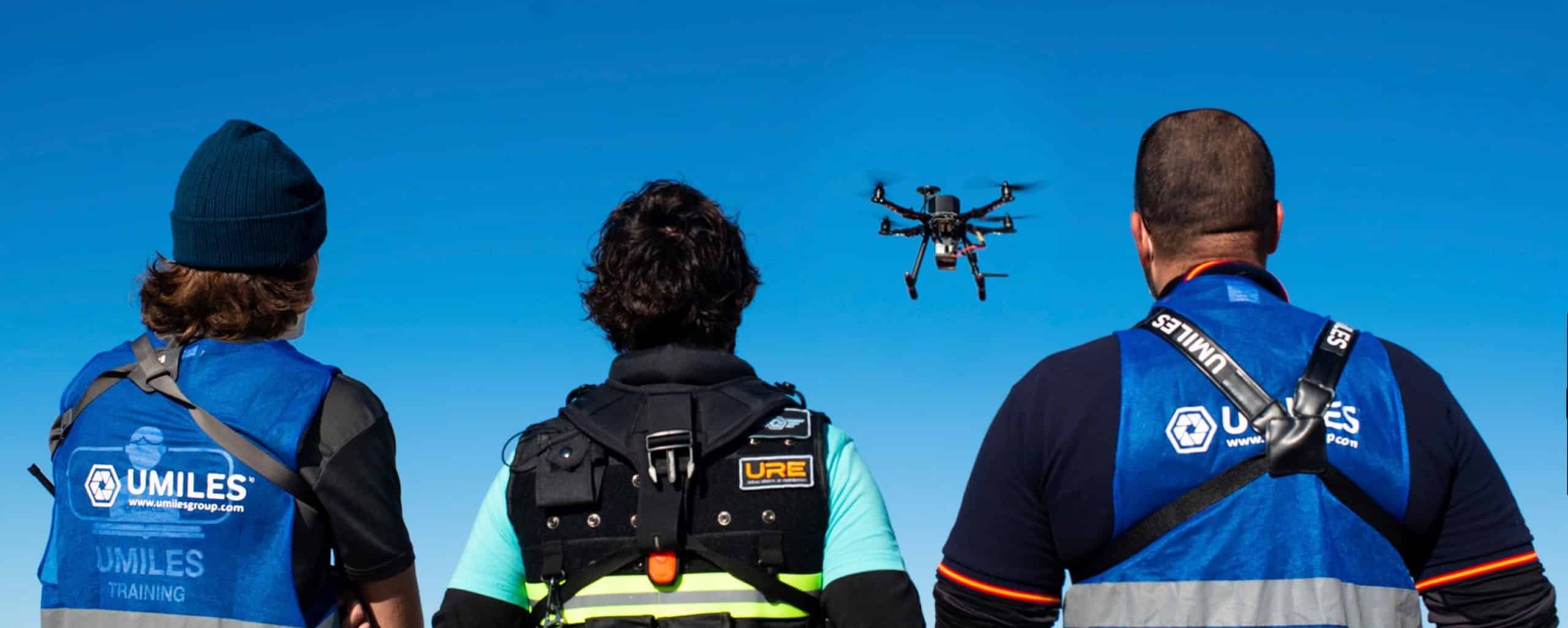 Don't miss out on the chance to specialise as a professional drone pilot and gain access to a wide range of job offers from the industry's leading companies. Ask for all the information you need to find out about the upcoming dates for our drone pilot course.
Do you have any questions about our drone pilot course? Check out this list of FAQs, where we answer the most frequent questions.
At UMILES University we are experts in Drone Courses. Below you can see our training offer:
© 2023 UMILES GROUP. ALL RIGHTS RESERVED