Want to become an FPV drone pilot?
FPV Drone Pilot Course | FPV Drones + Goggles free
Become a professional in handling First Person View drones with our FPV drone course, and learn how to master the art of flying and filming that this type of drone can offer.
If you want to learn first-hand how to pilot drones professionally, this course is for you. Don't miss the chance to specialise with the support of qualified experts, where you can also obtain an approved certificate upon completion of the course. Start now and don't miss this chance.
From August 28th to September 8th.
Timetable from 16:30 – 20:30 h.

The most comprehensive, practical FPV drone pilot course, and with free FPV equipment
At UMILES, we not only offer high quality training to become a FPV pilot but we also have the most comprehensive option in the Spanish market, as we offer the classes and a series of items that are indicated below:
20 hours of theoretical training.
20 hours of real practical sessions.
Components required for assembly of a Cinewhoop FPV Drone.
Free FPV equipment, including an indoor drone, FPV Goggles and Transmitter.
Virtual simulator classes for training practice.
Real flight with drone assembled by the student during the course.
2 days of piloting with Spanish drone-racing champion Ivan Merino, a specialist in aerial acrobatics and a world benchmark in FPV.
At the end of the course, you will keep racing drone you assembled, the indoor drone, and the rest of the free FPV equipment.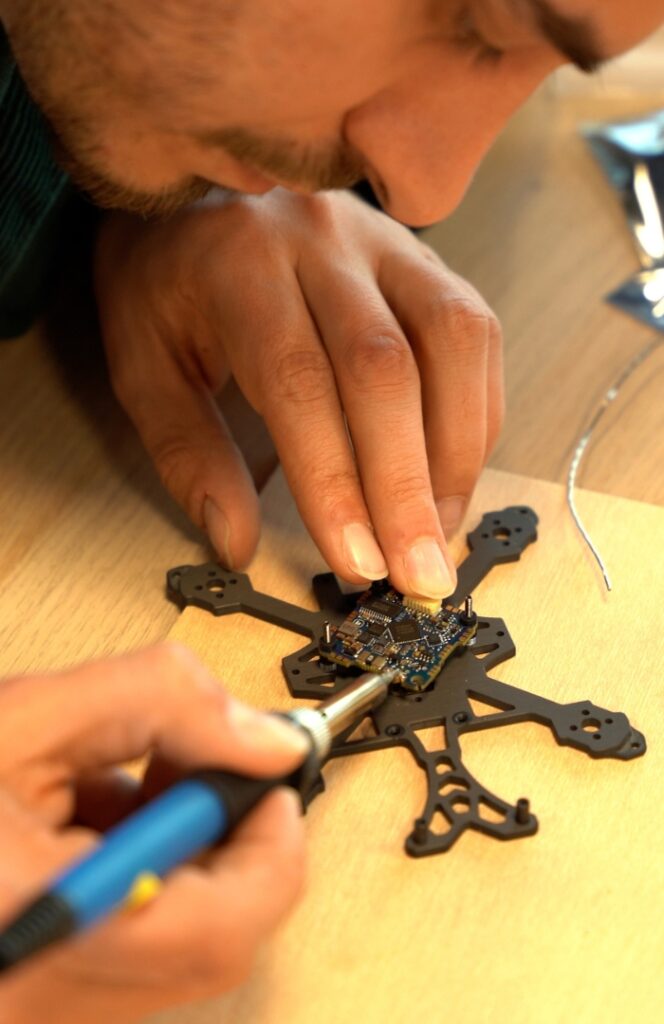 Become an FPV drone pilot
All our courses are AESA- approved and we are qualified as a recognised organisation to provide practical training for new drone pilots in line with the standards of current drone regulations.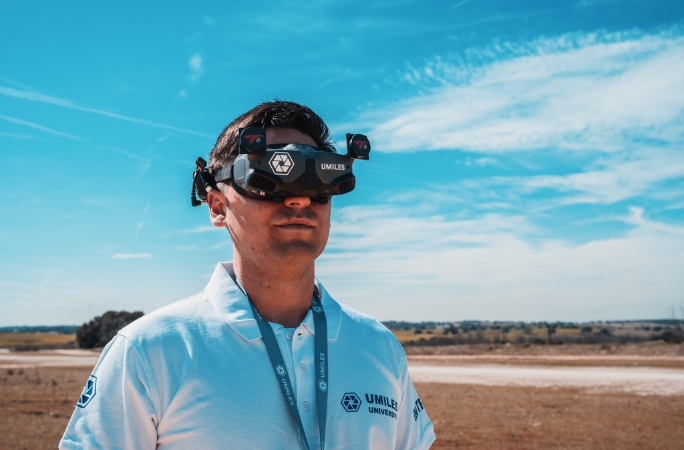 Drone pilots are increasingly in demand in sectors such as real estate or films, as is already the case in more advanced markets such as that of the United States. This personalised course has been created to train pilots in this race of the future.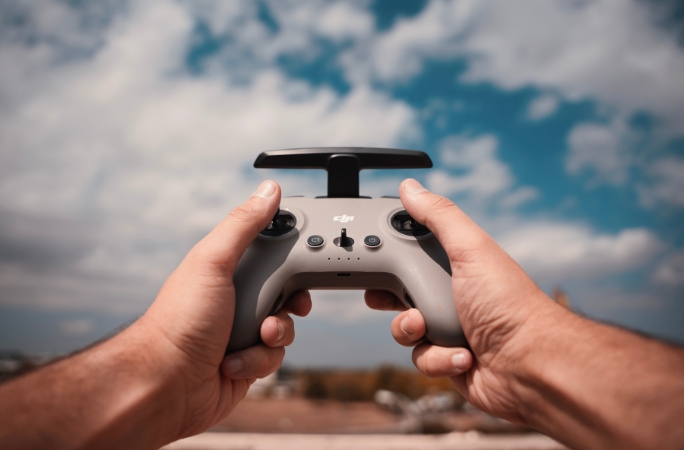 Want to work as a FPV drone pilot? Call us on
91 113 89 88
and reserve your place now.
Why choose UMILES University?
If you are looking for an FPV drone course that can offer comprehensive training that contains a theoretical part and a practical part in different scenarios, with the greatest experts and professionals in the sector, then you have come to the right place.
Our FPV drone pilot course offers you the chance to learn how to operate real drones in controlled environments, with all the tools you need for a unique experience.
What do our students think?
Read about the experiences of students who have already received the training we offer at UMILES University.
Course content and organisation of the FPV drone pilot course
Through this course, you will not only learn how to become an FPV drone pilot but we also include a number of resources so that you have everything you need to become an expert in this type of UAV and work correctly in the assembly, mechanics and piloting of FPV drones.
Want to become a FPV drone pilot and take advantage of the career opportunities the market has to offer? Don't miss the chance to train as a true professional with UMILES University.
Below are different ways for you to contact us so that we can provide you with information on the price of the FPV drone course.
Please remember that you can contact us for assistance on 91 113 89 88. Below are some FAQs that may be of help to you.
At UMILES University we are experts in Drone Courses. Below you can see our training offer:
© 2023 UMILES GROUP. ALL RIGHTS RESERVED